5 Steps to Preparing for a Convention
A convention, conference, or trade show is not only a great way of bringing like-minded people together to exchange ideas, but it gives businesses an opportunity to showcase their products and services to a captive audience. Whether you are hosting the event or you've purchased an exhibit, you want your company well represented through your display and marketing materials.
As you prepare for your next convention, consider these 5 steps to a successful showcase:
Establish Meetings in Advance
This is your opportunity to showcase your business, network, and engage with current and potential clients. Reach out to key players, clients or business partners, and investors you know are attending to schedule meetings during the event. You can invite them to your booth, set up a business dinner, or send them samples of what you will be showcasing at the event as a "first-look" opportunity.
Plan Your Exhibition Display
A creative display can either break or make your time at a convention. When you get it right, you will surely attract prospects, increasing your opportunity to convert. Before designing your display, get the appropriate specs and requirements for your exhibition space. Then, ensure the design not only represents your brand, but helps you stand out amongst a sea of other potential vendors.
Pre-Event Marketing
Although you may not be hosting the event, it's important to promote attendance to increase potential opportunities for yourself, and to let people in your industry know you will be at the event. Incorporate all of your marketing strategies, such as email, direct mail, and social media, to let people know about the convention and your display.
Get Quality Marketing Collateral from a Professional
To impress your potential customers and current clients, you need to ensure your display and collateral are the highest quality. Abbott Communication Group specializes in convention collateral and offers high-quality products at an affordable cost. Our free delivery services can also save you on shipping costs and the trouble of lugging heavy boxes as you travel.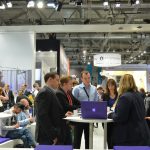 On-Stand Experience
Ensuring you bring the right staff is critical to the success of your exhibit. Although it's best to bring staff who have experience in this environment, you may also want to invite someone who has an obvious passion for the product that will engage people. You can practice a couple of scenarios with them before heading to the convention to ensure they're prepared.
As you prepare for your next convention, you can trust the experts at Abbott Communications Group to provide you the highest quality of printing at the best cost. With our extensive experience with conventions and trade shows, we know that sometimes things fall through the cracks and last-minute print jobs are needed. With our free delivery throughout the Central Florida area, we can ensure you get products you need on time. Call us today at (407) 831-2999 to speak with a specialist about your printing needs.