6 Tips for Creating an Eye-Catching Brochure
It may seem simple, but the importance of a well-designed brochure in the world of marketing should not be overlooked. A successful brochure design grabs the audience's attention and makes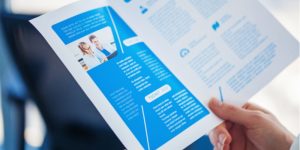 them want to read the information inside. It is a highly effective and cost-efficient way to promote your business, and creating an effective brochure is simpler than you might think!
Here are some tips for getting the most out of your brochure designs:
Define an Audience
Determining your audience is the best way to help make sure your brochure is on target. Who will be buying your product or service? What age range do they fall in? What are their interests? Compiling this information helps you create the style and content required to appeal to your audience most effectively.
An Appealing Headline is a Must
Just like the first line in a paper or article, the headline is the first message that meets the audience's eye. Brochures are meant to get information across quickly, so an attractive headline is crucial. Make it short and catchy, and have it contain a key selling point that will keep them reading on.
Be Concise
Content in a brochure is meant to be brief and to the point. Your audience won't spend much time reading a brochure, so you need to get your information across quickly. Use information-rich bullet points, small paragraphs, and direct headings. You should let your customer know what you're offering with the least words in the shortest time possible.
Use Quality Images
Images are every bit as important as the words that accompany them. It helps the reader determine whether or not the brochure is worth looking through, and a good image will catch the reader's eye immediately. The images you use should speak for your produce and deliver your message effectively.
Be Unique
Making your work creative and unique to your company is important. It sets you apart from competitors and helps customers read your brochure over the competition. There are endless template designs available on the web to help get you inspired!
Use a Call to Action
Ask your audience to do something at the end of your brochure. A call to action gives your reader something to do, or some sort of incentive to move forward in the buying process. Tell them to call you or contact you for more information, a free sample, or even a discount of some sort. This helps them to become more familiar with your business, and increases the likelihood they will come to you when they need what you're offering.
At Abbott Communications Group, we can have your brochure needs covered. We can handle any design or quantity you need, and our experts use the latest equipment to ensure the best quality product for the lowest possible price. Call us today at (407) 831-2999 with any questions, or to get your custom quote.