We're Certifiably Proficient.
Earning and maintaining industry certifications ensures that we stay at the forefront of the printing industry.

---
G7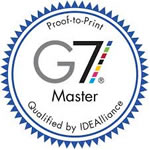 Abbott Communication Group is a G7® Master Qualified printer. Customers of G7 Master Qualified printers benefit from the most modern technology, techniques and process controls available today in the graphic arts industry.
This certification shows our continued dedication in providing the best printing services in Orlando and the surrounding Central Florida area. G7 is an international standard (TR015) for calibrating printing presses and proofing systems to a common visual neutral grayscale appearance. As a G7® Master Qualified printer, we can achieve color consistency locally as well as globally across multiple platforms, which is a critical component in brand management.
To learn more, see your Abbott Communications Group sales or customer service representative or click here to learn more about G7 certification.