Advantages of Using a Pantone Matching System
There are many factors that go into printing in color, including stock type, the printer, color system, printing languages, and more. In fact, color matching is one of the most challenging aspects of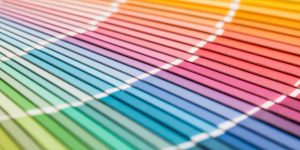 printing. Whether you're trying to coordinate a large work function or a small event, color-printed materials are often a necessity. However, trying to print them on your own or trusting an inexperienced printer can be time consuming and forge inconsistent results.
The methods used by common printers, often CMYK printing, can result in billions of shade differences, none of which may match the color you intended when designing the piece. Even when you order materials from a printing company using their preferred color system, you can see inconsistent and disappointing results.
At Abbott Communications Group, we understand the frustration of ordering materials that do not print in the color they were designed. Therefore, we adopted the Pantone Matching System as our standardized key to eliminate the risk of color mishaps.
What Is a Pantone Matching System?
There are two common systems used by professional printers to reproduce color.
CMYK
Cyan, magenta, yellow and key (black) method, uses a combination of overlaid dots of each of these four primary colors to create the new color. This method has been found to have more inconsistent color outcomes due to a margin of color aligning variation from printer to printer.
PMS
Pantone Matching System, is the superior option. What sets this system apart is each color option is premixed and has a numeric identification and suffix that will produce the same result across all PMS printers. Swatch books are also available for designers to understand the color's exact appearance when printed. Furthermore, you'll have access to colors that are not even available with CMYK methods.
G7 Master Printing
In addition to using the PMS standardized system, Abbott Communications Group is a G7 Master Printer. A G7 Master Qualification is granted to facilities that comply with Idealliance's set of specifications for achieving gray balance, which ensure visual similarity across all print processes.You can expect excellence from the company  that holds this title and guarantee they are a skilled and tested professional in print production, raising the bar on color matching performance, quality control, and reduced costs. To receive the best results, trust a G7 Master Printer for all your printing needs.Advantages of Using a Pantone Matching System
How Does This Help Me?
As a G7 Master Printing company that utilizes the PMS, we can provide excellent uniformity in printed color materials. Our technicians have extensive experience in color profiling that will guarantee the color on your materials matches your intended color profile.
Working with Abbott Communications Group not only ensures a positive printing experience, but it provides consistently great results that meet your high quality expectations at the lowest price possible. To get started on your next printing project, call us today at 407-831-2999 or contact us online.