How Abbott Helps Make the World a Greener Place
Minimizing environmental impact is more important now than ever, with the ever increasing industrialization around the world and increased demand we put on our planet. Both people and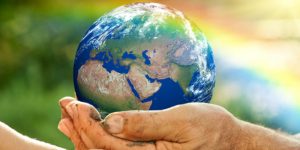 businesses alike need to do everything possible to reduce the amount of waste we produce, and with Earth Day right around the corner, now is the perfect time to make those changes that will help our planet thrive for generations to come.
What is Earth Day?
Earth Day spans back nearly half a century, when millions of people decided to protest the negative effects that 150 years of industrialization had created. Smog was becoming a huge problem for the world's health, and something needed to be done. By raising awareness, the people were able to help create the Environmental Protection Agency (EPA) in July of 1970.
Today, Earth Day is a global event that involves over 1 billion people in 192 countries doing their part to raise environmental awareness. People march, sign petitions, plant trees, clean up their towns, and more. Here at Abbott Communications Group, we always do our part to reduce environmental impacts through our green initiative program.
Green Initiatives
Just some of the green initiatives we implement every day include:
Environmental Sustainability 
We are proud to be certified through the Forest Stewardship Council and the Sustainable Forestry Initiative. These certifications allow us to source products from forests that are managed in a sustainable manner, and that provide environmental benefits.
Recycling
Printing produces a large amount of leftover paper products, and we recycle all of it. We recycle over 600 tons of paper per year, which is the equivalent of more than 10,000 mature trees. Additionally, the aluminum plates used in our offset presses is recycled, resulting in over 11 tons of recycled aluminum annually.
Vegetable-Based Inks
Our vegetable-based inks are less harmful to the environment than petroleum alternatives. Additionally, our inks have reduced amounts of Volatile Organic Compounds (VOCs), making for cleaner air and water.
Hazardous Waste Disposal
Our chemical waste is disposed of by the leading provider of environmental solutions to big players in the commercial and automotive industry. Our onsite disposal system is also inspected annually by the Health Department.
If you're looking for the best quality, environmentally conscious solution for your printing needs, the experts here at Abbott Communications Group are here to help. Contact us online today with any questions about the ins and outs of digital printing, or to request a custom print quote!