Why Are Business Cards Important?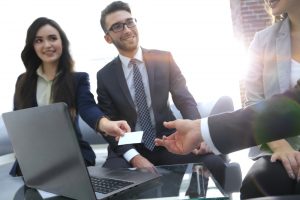 When you can share information instantly with new connections at the tap of a button, it might cross your mind that business cards seem a little outdated by comparison. Who needs these little paper rectangles anymore when we have LinkedIn and Facebook to share personal information with others?
While this might seem like an obvious question to have, you should first stop and consider the role of a business card. These new technologies are important for everyone working at businesses to use, but their existence does not mean the end of the business card. They simply do two different things.
Here are a few reasons why business cards remain a vital tool in today's technological world.
Not everyone is technologically savvy
Most people have smartphones nowadays, but some don't. And not all those who do have smart devices know how to use every feature. If you only rely on sharing information digitally, you could have some awkward encounters and ruin a good first impression. Business cards will never let you down like this.
Exchanging business cards is a time-honored networking tradition
It is an unspoken code that everyone should have a business card at networking events and business meetings. Not participating in this tradition can make you seem ill-prepared or standoffish.
You never know when a networking opportunity will arise
Business cards are portable and easily accessible. Many keep at least one spare card in their wallet so that they are always prepared to seal a new connection. It is faster, easier, and less intrusive to hand out a business card to a new acquaintance than to type your info into their smartphone.
Business cards give legitimacy to you and your company
It is embarrassing to be caught without a business card when someone asks for it. It can make it seem like you are a part of a shoddy business at worst, and sloppy at best. A well-designed business card, by contrast, gives potential clients the impression that you are professional and care about the small details.
Your contacts can refer others to you easily
If your card is especially striking and informative, your connections will likely hang onto it for a while. And, even if they don't end up doing business with you, they could remember you in conversations with others and pass your card along to them. A good business card is effortless marketing.
Do you need a business card that will stand out from the pack? Abbott Communications Group has the most advanced printing technology available for creating crisp, clean business cards to impress your clients, all at an affordable price. To learn more about our printing services, please give us a call at 407-831-2999.