Why Our Digital Printing is Changing the Game
Traditional offset printing has for a long time been the gold standard when it comes to producing quality lithography, but when turnaround times need to be short, and design requirements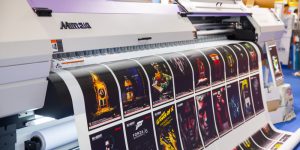 require variety, digital printing is the answer.
Digital printing is allowing us to provide shorter wait times than ever before while allowing for things not possible with traditional offset printing such as variable data printing, which allows text and graphics to be changed from page to page with no slow down.
Here are just some of the ways our on-demand digital printing is changing the industry:
No need for press plates reduces labor costs and saves time compared to offset printing
Digital printing is better suited and more cost-effective for small runs
Our use of dry ink means there is minimal drying time required, further reducing turnaround times
The ability to change text or graphics for each print
Prints are able to be done on a variety of stocks including polyesters, linen, adhesive, magnet and more
In a world of short deadlines, unexpected setbacks, and instant gratification, digital printing is quickly becoming the new standard for small-batch printing needs.
Choose Abbott Communications Group
If you're still not sure which type of printing suits your needs, the experts here at Abbott Communications Group are here to help. Contact us online today with any questions about the ins and outs of digital printing, or to request a custom print quote!